For higher duty cycle and faster thrust loads, we suggest our Ball Screw series of stepper linear actuators. Our Ball Screw Actuators are able to carry heavier loads than other traditional linear actuators. The ball bearings help to improve the speed, force, and duty cycle, all while utilizing less power in order to drive them.
The Ball Screw Stepper Linear Actuators are offered on the "External type" linear actuators. High performance driving units, which combines Stepping Motor and Ball Screws/Lead Screws to eliminate Coupling. Stepping Motor is mounted directly onto the end of Ball Screw/Lead Screw and Shaft is ideally constructed to form the Motor Rotor Shaft, this minimizes lost motion. To eliminate the Coupling and the compact design of total length can be achieved.
2-phase Stepping Motor is mounted directly onto the end of a Resin Lead Screw Shaft. Nut of polyamide type Resin with good sliding properties is employed. It can be used without oil and lower noise can be achieved when sliding. Backlash is eliminated by coil spring built in the Nuts.
FEATURES / BENEFITS
Powerful: Able to carry heavier loads than traditional linear actuators
Low friction / longer life cycle: Ball bearings improve speed, force, and duty cycle rating and require less power to drive them
Can convert motion: Straight to rotational, and vice versa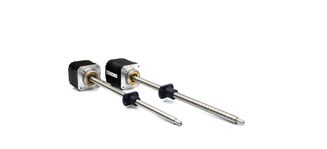 CUSTOM SOLUTIONS AVAILABLE
Let our world class applications engineering team help you find the right ball screw linear actuator solution to fit your needs!
For more detailed product information, please email us at amanda@kgg-robot.com or call us: +86 152 2157 8410.
---
Post time: Oct-10-2023